cwas#16 / cwas#11 / cwas#10 / cwas#9 / cwas#8 / cwas#7
cwas#6 / cwas#5 / cwas#4 / cwas#3 / all interviews / search
Mazarin
an interview with Quentin Stolzfus by Matt Dornan / pictures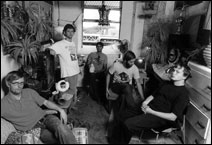 "Musicians have always mixed genres. I think that is one thing that helps push music into new directions," says Mazarin's maverick main-man, Quentin Stoltzfus. When stepping out from the behind the drums of space-rockers The Azusa Plane to assume his new identity as singer-songwriter for the unashamedly pop-oriented Mazarin, Stoltzfus wasn't turning his back on his experimental urges, and the resultant debut album, 'Watch It Happen', glistened with a frosting of keyboard drones and sound-collages among the pure pop thrill of Wheats, Chasing The Girl and Deed To Drugs. Consolidating the core members of the band (drummer Sean Byrne, bassist Matt Werth and multi-instrumentalist/co-producer Brian McTear), its follow up, 'A Tall-Tale Storyline', boasts the expected wealth of hooks and melody - an added urgency propelling the euphoric My Favourite Green Hill and To Keep Things Moving - whilst further extending the palette with forays into folk and country, an acoustic tribute to John Fahey and the old-school country of The Limits of Language enhancing Stoltzfus' reputation as a resourceful musical journeyman.
You've worked with Brian McTear again and it's the same set of musicians as for 'Watch It Happen'. Did you consider alternatives or decide not to mess with a winning formula?
During the time between the 'Watch it Happen' sessions and the 'Tall-Tale Storyline' sessions, I recorded with a few different people at several different studios. I don't think I was looking for another place to record, or someone else to record the next album, but I was curious how other people did it, and I had wanted to collaborate specifically with these people for a while.
Who in particular? Lenola? Who else?
Yes Lenola, and I also recorded a few tracks with Kurt from the Lilys. I actually brought in a few different bass players, a different drummer, and even tried to play both bass and drums myself on several songs, as an experiment to see how my playing and the recording process would be affected, but I wasn't as happy with the results.
What were the key differences, what was missing?
Bringing in different bass players was difficult, because Matt Werth is such a talented bass player, and I've become used to his sound, and expect to hear it in my songs. I guess it's the same with drums. Sean is a much better drummer than me, and I've grown accustomed to his sound being present in my recordings. I think I actually have started writing with expectations of what both Sean and Matt's parts will be - the way they would play them - in my head, prior to actually recording them. I don't think I would want to work with anyone other than Brian at this point Maybe Brian Eno, or John McEntire, but I'd still bring Brian along.
Brian's becoming the Philly John McEntire it seems. Do you imagine a time when you'll have learned all you need to go it alone, production-wise?
I think I know enough now to record myself, but I really like working with Brian. It frees me up to concentrate more on the creative side rather than worrying so much about the technical aspects of recording, which I enjoy, but it's nice to have two minds thinking about it. Both Brian and Sean have a keen understanding of how I write, what I like and what I don't like, and they both tolerate a lot of my whimsical experimentation and drastic changes in song structure, melody, and composition.
How far do these alternate versions evolve before you decide to change things? Is it an instinctive or more experimental urge that encourages you?
Most of them are complete versions, I guess my decision to change things, or to try something different is a mixture of both experimental and instinctive urges, not to mention curiosity. I'm very hard on myself, and with most songs I write I go through fluctuating periods of loving and hating them. There is very seldom a middle ground of just plain satisfaction and I guess going through these periods is what drives me to try different versions. [NB: a radically different, 'psychedelic' version of What Sees The Sky first appeared as a bonus track on the Japanese issue of 'Watch It Happen']
Sequencing is important, what inspired you to open with the eight-minute Go Home - not your most accessible track to date - as opposed to the pop fix of Suicide Will Make You Happy or My Favorite Green Hill?
Sequencing was much more difficult this time around. It took me, Brian and Sean at least a month of making CD-Rs and discussions to figure out what worked best. We even changed the sequence after we did the initial mastering. From my perspective, all of the songs have such a different feel, and I didn't want to over-intellectualize the sequence, but I also wanted to make sure all of the pieces of the puzzle fit together seamlessly, and that there weren't any awkward moments that disrupted the flow of the record. I guess in the end I thought that Go Home gave the record a very unique sounding and immediately recognizable beginning.
The Limits of Language is your first recorded flirtation with country music, and sounds like you might have been listening to some Gram Parsons. If not, who or what put the song in your head?
I've been listening to a lot of Gram Parsons, Flying Burrito Brothers, Gene Clark, New Riders of the Purple Sage, Johnny Cash, Hank Williams, Carter Family, plus a lot of pre-war gospel and folk music, particularly the Harry Smith Collections, the Memphis Jug Band, and the American Primitives compilation on Revenant Records. I've always been a big fan of 'Country' music, but I don't necessarily have a simple view of it anymore. Growing up in Texas, 'Pop Country Music' was inescapable, as were blues and gospel music to some degree. I have recordings of myself singing Mamas Don't Let Your Babies Grow Up to be Cowboys when I was 3 years old [potential Comes with a Smile compilation cut?] We would go to the rodeo, and there was always a rodeo band playing, and I would pay more attention to them than the actual rodeo itself, although the clowns fought for my attention too. 'Country' music was pretty deeply ingrained in my system when I came into a lot of what John Fahey calls 'American Primitive' music. When I heard recordings from the late 20's and early 30's of songs that my mother had sung to me when I was a child it was a major personal discovery of where I fit in culturally with an enormous list of musicians, all who came from this environment of 'American Primitive' music. Woody Guthrie and the Carter Family were among the first to popularise American folk and gospel music, but before them there were countless musicians who've remained nameless for years. After them was Hank Williams, and then Elvis, who was criticised initially by a lot of people for being too 'Hillbilly'. Elvis and Sam Phillips are credited for creating rock 'n roll - obviously that's debatable. After Elvis was Bob Dylan and there's a direct connection between Dylan and Woody Guthrie, and nearly everyone I can think of has been influenced by Bob Dylan in some way. So I guess my point is that country music is much more pervasive than one might think, and it's something that stems from something uniquely American. The same goes for jazz, and in the times of Jerry Springer, 'COPS', and George W., it's reassuring to know that there is something of significant cultural value that I'm directly connected with, from the country where I was born. The Limits of Language was particularly inspired by a band I heard on National Public Radio called Reno, Smiley and the Tennessee Cutlips. They were an obscure bluegrass band, and I haven't been able to find any recordings by them. But I heard them on the radio one night driving home from work and proceeded to write The Limits of Language from start to finish including melody and lyrics - which is a rarity for me - whilst driving down route 76 in Philadelphia.
What is the general attitude towards Country music in the US right now? Is it packaged in the same 'alt.country' vs 'Nashville' way as it is here? The 'alt' thing has caused quite a stir here, although the breadth of music it seeks to encompass varies wildly...some seems to draw from the history you describe - Will Oldham, Songs:Ohia etc - while others put a more contemporary slant on things.
I don't really know what the general attitude is towards country music is in the States. To be honest I don't really care, or pay attention. Judging from a few reviews that I've gotten on 'Tall-Tale', it seems that with some people there is a bit of resentment towards the songs that seem to be influenced by country music, and they see it as not having a place in modern rock music. I'm not really sure why. Musicians have always mixed genres. I think that is one thing that helps push music into new directions. Some people get it and see the connection between certain country music, rock 'n roll, experimental music, punk, jazz etc... while others are unaware of the themes that are consistent between all genres of quality music. Some people I guess just don't care for it, or attach some sort of a stigma to it for one reason or another. That kind of mentality is very limiting. Maybe some people haven't ever heard good country music, maybe their perception of country music is based on what they hear when they're flipping through radio stations and hear the audio vomit that is most modern 'pop-country' music. If that is the only exposure that most people have to country music, then I can understand why they wouldn't like it.
I'd guess that RJF Variation 1 is your tribute to John Fahey...
There is a lot that could be said about John Fahey's contributions both musically, and anthropologically speaking. He helped to preserve and proliferate music that very well could have been lost forever. I don't feel like I'm the right person to eulogise him, but I loved and respected him immensely, and his influence on me will be permanent.
You'll have upset your mother again. Was Suicide Will Make You Happy written with anyone in mind? Yourself? It seems to take a philosophical approach to life.
I guess it's just a simple reminder to myself and anyone else having a bad day.
Any of these songs inspired by your recent travels? Britain?
Yeah, the day I arrived in the UK, I holed myself up in Vinita's bedroom and re-worked Suicide Will Make You Happy, What Sees the Sky, Flying Arms for Driving, and another song that didn't make the record, and played them at my show at the 12 Bar Club the next week. I only ended up using the versions of Suicide... and What Sees... on the record. I normally use travelling as a critical listening time. It's great because you're out of your element and you have a tendency to see yourself and your normal environment/ social ecology much differently. I also find that I write a lot of lyrics and melodies while travelling, so I always take my minidisc player and a notebook with me anywhere I go.
CWAS #9 - Winter 2002