cwas#16 / cwas#11 / cwas#10 / cwas#9 / cwas#8 / cwas#7
cwas#6 / cwas#5 / cwas#4 / cwas#3 / all interviews / search
James William Hindle
by Simon Berkovitch / pictures by Paul Heartfield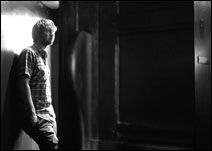 Not many twenty-something musicians can claim to be 'big in Brazil', but a full-page interview appearance in one of the capital's leading newspapers, Correio Braziliense, has heralded Hindle's arrival to the salsa set. This is just another unexpected event in the career of James W. Hindle whose eponymous debut album is gathering glowing press in the States, but making small (though significant) waves here. It is unusual for a Yorkshire born, London based 25-year-old musician to be gathering more interest abroad than in his own country, but the circumstances of James' rise to prominence are far from the standard route of development.
The release of Hindle's eponymous debut album on San Francisco's Badman Recordings in 2001 was the most significant signpost on an unconventional career path to date. Badman boss Dylan Magierek included Hindle's interpretation of Whispering Jesse on his label's John Denver tribute album, 'Take Me Home', following an unexpected and unsolicited demo recording winging its way across the Atlantic. The invitation to record a full-length promptly followed, with Magierek engineering. Aided and abetted by high profile collaborators like vocalist Paula Frazer and former American Music Club drummer Tim Mooney, the album is very much Hindle's show.
Even from his earliest musical forays into music making as a teenager in Leeds (including a mysterious punk venture with a band called Coping Saw), unrecorded projects were essentially vehicles for Hindle's burgeoning song-writing skills. "Early gigs were played under pseudonyms...such as Sam and The Milford Sound. As I didn't want to set up a band with a concrete set of musicians, I thought that using an umbrella term would be good idea, giving me a sense of freedom to work with whoever,"
Hindle remembers. Yet this early concept was dropped for his latest material, as
"people like Smog, Palace and Pedro the Lion all use project names, when it's really one person"
and he doesn't want to appear to be
"bandwagon jumping".
Recording the album in the legendary Haight district of San Francisco was an eye opening experience for Hindle. He freely admits that his previous studio experience had been limited and his initial concept for the album was to be a very stark affair,
"just guitar and vocal...no other instruments."
This situation was possibly borne from the fact that James couldn't anticipate
"musical arrangements for a full band from the meagre set up of my four-track in my bedroom in Leeds."
In fact, one other interesting possibility was considered, as James toyed with the idea of playing all the instruments himself,
"thinking along the lines of the first Paul McCartney solo album. But,"
as he wisely remarks,
"if you get offered the drummer from American Music Club, you're not going to say no, are you?"
Indeed, Mooney is singled out for high praise by Hindle, a big fan of his
"lazy sounding drum sound and his ability to fall onto the beat in a jazzy way."
Indeed, to my ears, the album captures an American feel, as well as retaining inherent elements of British folk. This is surely the combination of the location of the recording, the musicians and James' own musical phrasing.
"The album was originally going to be called 'The America Pedal' after a friend of the producer dryly commented that we were using an effect pedal on my voice on a couple of songs,"
Hindle admits with a faint look of embarrassment.
"I can't really help some of my phrasing,"
he continues,
"as a lot of bands I grew up listening to were American, so it is an unconscious thing...but, come on, listen to Mick Jagger or Teenage Fanclub for example. It's not necessarily an affectation...At the risk of offending many a traditional English folk singer here, I do feel that many of them are extremely affected. I mean, how on earth can that be their natural singing voice...those accents!"
Yet the presence of a broader musical palette not only gives James' understated songs the chance to breathe in a sympathetic environment, but also draws to the attention the laziest comparison of all. Any essentially solo acoustic performer who utilises string arrangements and tackles emotive subject matter shall surely suffer the indignity of the dreaded Nick Drake reference. Hindle is adamant that his work bears little resemblance to England's most tortured bourgeois bard:
"Every other interview mentions Nick Drake, but he had no influence whilst making the record...A song like (Masks) bears a superficial resemblance to Drake in as much as we used a cello. I guess that strings are something to be careful with. If you place a cello on a song, you could be accused of conning someone into an emotional response."
Even with these reservations about songs becoming
"overwhelmed...a bit too saccharine sounding,"
there is definitely no real danger of his restrained and charming songs straying into territories of high pomp. Indeed Hindle is critical of generic British indie bands
"who'll get in an orchestra at the drop of a hat when they reach a certain level career-wise to lend their predictable songs an epic quality that is fraudulent and unnecessary."
He's clearly
"not a fan of stadium rock."
A strange choice of cover then, perhaps, to tackle a Bee Gees composition. Admittedly, the song I Started a Joke comes from their pre 'hair and flare' disco incarnation, but the original version is, nonetheless, fairly overblown. James explains that his version
"turns the song on its head. Lyrically it is so blatant and obvious, no hidden meaning in there at all, but I strive to deflate the whole 'look at me and my pain' singer songwriter cliché by choosing that song. To be honest, I'm not a massive fan of the song...it just makes me laugh, really."
(Upon discovering revered slo-core band Low had previously covered the same Bee Gees track, Hindle admitted to reservations about including it at all, lest he be accused of "attempting to steal their thunder" - although his mother seems suitably impressed).
I Started a Joke is the first of two cover versions that feature on the album, the other being a rendition of Glen Campbell's Less of Me.
"The Glen Campbell track is originally a fast little song,"
Hindle reminisces.
"Some people think that I've included it for the song's whole 'hope for the future sentiment' and there is an element of that, but I also like its humorous feel too."
James explains that he has a great love of traditional British music and expresses a desire to
"strip things down"
on the next release, but without straying into obvious singer songwriter territories. As he emphatically states,
"I certainly don't want to be one of those fools down the Kashmir club [central London based acoustic venue], taking themselves ever so seriously...'A little bit of Kashmir hush, please!'...Songs about shooting stars and other such rubbish... I would like to continue doing the same kind of songs, but keep it quite minimal, just a little bit of pedal steel or fiddle to flesh out the sound a little."
While displaying enthusiasm and respect for the likes of British folk guitar wizard Nic Jones (
"he has a very natural voice...open to interpretation"
) the altogether less predictable choice of Jeff Baron - multi-instrumentalist of American psychedelecists Ladybug Transistor - has had a more direct impact on Hindle's work. James' regard for Baron's song-writing skills extends further than just professional respect, as he explains that Jeff was
"the first person to have any interest in my music. When I was with Coping Saw many years ago, we played our first ever gig with an avant-garde performance artist called Azalia Snail...Jeff was her guitarist and we hit it off. It was his encouragement that has led me to be doing what I'm doing now, I guess. We've been talking about influences, but Jeff has been my greatest influence both personally and musically."
With such high praise and camaraderie, it is fitting that Hindle's Spring '02 twenty-eight date American tour should be in the company of Ladybug Transistor and their sister project, The Essex Green. For these shows, James will be following the lonesome route of just 'a young man and his guitar', with no attempts to replicate the arrangements of the record. He doesn't see a problem in this as, after all, the songs were originally conceived with just guitar and voice in mind.
"Live, when I play a song such as The List of You and Me, it is very different from the record,"
he explains.
"I don't see the point in slavish recreation of studio recordings. They are two different entities but I hope that people aren't put off either way. What I mean is, if someone's bought the record and was expecting to hear lush strings and a full band, they may well be disappointed. But the other way round is potentially worrying. People who see me live may think that my album is just a guy on his own with a guitar...yet another singer songwriter type...anyone can do that. Also, all the reviews have mentioned the instrumentation as one of the things that make the album so interesting..."
James trails off. I tell him that he worries too much: there may be strength in strings but strong songs will win over any audience. He smiles and unassumingly reflects that
"I could quit music after doing this tour and I'll have achieved everything that I ever wanted to do. I've written my own material, put an album out and it's been well received. I'm about to tour America with my friends and travel to places I can't imagine. It's all a bit of a dream really. I mean, I could retire at 25..."
I ask him whether that is a serious proposition. He smiles again.
CWAS #10 - Spring 2002