cwas#16 / cwas#11 / cwas#10 / cwas#9 / cwas#8 / cwas#7
cwas#6 / cwas#5 / cwas#4 / cwas#3 / all interviews / search
Matt Pond PA
by Matt Dornan / pictures by Chris Meck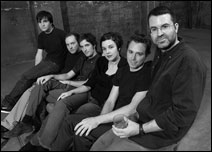 "I wandered a bit before I came to Philadelphia,"
says Matt Pond before listing a succession of musical hot spots across the US, including Tucson, Portland and San Francisco, which may have spawned very different outlets for his songs. The sounds of Matt Pond AZ, OR or CA shall thus remain unheard.
"I came here because I didn't really know where else to go,"
he continues, before hitting upon Philadelphia's allure.
"The thing I knew then, as I know now, is that this city is open to people playing music."
On their third album, 'The Green Fury', founding members Pond, guitarist Josh Kramer and cellist Jim Hostetter are joined by violinist Rose McNamara Jones and multi-instrumentalist and producer Brian McTear (both of whom joined the ranks for 2000's 'Measure') in a cast of fourteen. Of those who contribute to the album, second cellist Eve Miller (Rachels), drummer Mike Kennedy, guitarist Jim Kehoe and bassist Matt Raisch seem now to form the nucleus of the band alongside Pond and Hostetter (Kramer's name now notably absent from the 'official' six-piece personnel).
"I feel very confident in the line-up right now,"
enthuses Matt, whilst acknowledging the benefits of the extra-curricular activities of some members.
"Everyone has commitments, that's impossible to avoid. When you know that people have a good aesthetic you can trust them to help write songs. It also helps that we get along well. The arguing is good arguing. The type of arguing that comes from giving a shit about how the song goes. That is incredibly close to what I want this thing to be."
Between 'Measure' and 'The Green Fury' came the five-song EP 'I Thought You Were Sleeping' which announced a return to the electric guitar of the debut, 'Deer Apartments', whilst further integrating the strings into a more realised sound.
"The EP was like a fifth leg of the record,"
Matt begins.
"They didn't fit ['The Green Fury'] in some ways. There was a defiance in those songs that needed to be in another place. There was, for me - and for the band - a need to get a step away from the lull of 'Measure'. I think while making 'Measure' we were still figuring out what we were - what type of music we would make. We were just getting comfortable with the idea of doing this." The songs that eventually comprised 'The Green Fury' were chosen in an effort to make the record "as complete a thought as possible."
Elements that bring the record together include geographical references to both Philadelphia and Pond's home state of New Hampshire and, in This Is Montreal and Canadian Song, odes to the expanse north of the border.
"It's easier to use your surroundings as an excuse or a reason than to put the blame on yourself. Blame for what, I don't know,"
Pond reflects.
"I have a small fixation with Canada. I spent a lot of time there growing up. On the record, Canada is an innocent idealisation; as if Canadians go about their business without any of the thoughts that we have as obstacles. ["It's how Canadian's must feel / Everything they see is real"] It is not sarcastic, but it's not realistic either. Obviously, in the end, nothing is that different, besides some politics and French-speaking people."
Canadian Song also details the plight of the album's title character, a Plymouth Green Fury that crashed one fateful New Year's Eve.
"We were driving to a party,"
Matt reminisces.
"And the car behind us, the green fury, slid off the road in a snow storm. It rolled but no one was hurt and there was only minor damage to the driver's side door. It was a great car. Four people could lay comfortably in the trunk. And it was so fast."
Such atypical subject matter only enhances Pond's reputation for crafting fresh and original songs yet, despite his idiosyncratic leanings, there is an emotional core to 'The Green Fury' that leaves its mark in the wintry landscapes it inhabits.
"The record was written over the whole series of seasons. It was, though, the idea of thinking about winter all year long,"
Pond explains.
"In the spring it's all forgotten. It's as if everything we know about our surroundings, environment, climate... these things are compensated for with rational thought... but that doesn't change the way we react or anything."
Pensive and thoughtful, the album is littered with musings on Pond's immediate environment, troubled relationships and other contemplative insights.
"I don't have any problem with reflection, but I don't like to think about it as an action," he says. "Insomnia breeds surprise reflection. Writing songs the same."
Whilst currently implementing an 'independent music composition company' with Kennedy and McTear, known as Plottwist Sound, the realities of life as an independent musician in an increasingly competitive market has seen Pond dabble in the mainstream world of late. Even so, composing music for Oprah Winfrey's Oxygen Network?
"The Oprah thing has slowed down to a halt," he admits. "I don't really have a problem with writing music for someone else as long as I am not betraying my own music. Most of the time I'm just an organiser or arranger - of pencils or snacks. If I couldn't separate myself from it, I wouldn't do it. I will never sell-out."
Already at work on the next record, thematically a rumination on western exploration of the New World -
"I have an ancestor that did some 'European exploring' in north western Canada. Hints at that" - Pond is currently touring in support of 'The Green Fury', a journey that will not, sadly, bring him to our shores. "I'm hoping for a European deal but not pushing for it,"
he says.
"We have so many things to do; pursuing something like that can be exhausting. The only way it will happen now is if someone comes to us."
CWAS #10 - Spring 2002