cwas#16 / cwas#11 / cwas#10 / cwas#9 / cwas#8 / cwas#7
cwas#6 / cwas#5 / cwas#4 / cwas#3 / all interviews / search
Josh Rouse
by Matt Dornan / pictures by Ben Graville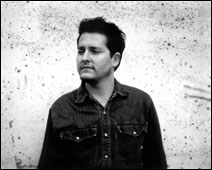 "Home is where I always want to be"
sings Josh Rouse on Nothing Gives Me Pleasure, the first song on his third and most recent album, 'Under Cold Blue Stars'. Thankfully 'UCBS' marks a sonic departure from its predecessor, 2000's 'Home'. As blessed as that album was with pop hooks and other radio-friendly-isms, the all-too-sterile production sapped the atmosphere and soul from Rouse's engaging songcraft.
"A lot of the drums on 'Home' were recorded with click tracks and I'm afraid it inhibited the groove,"
admits Josh.
"My goal on 'Under Cold Blue Stars' was to get the best feel for the track in the least amount of time, that way it has more of a 'just discovered' sound."
The new album was further shaped by a concept Josh describes as
"the little idea I had about a couple in the '50s dealing with marriage, family, careers, etc."
After explaining his vision to producer Roger Moutenot (Lou Reed, Yo La Tengo) and his bandmates they began to shape the record.
"It played out like a screenplay in that the set and mood changes with each song, much like a movie,"
he says.
"David Lynch's 'The Straight Story' was a big inspiration because I grew up in that small town environment."
Ex Ben Folds Five drummer Darren Jessee features on half the album.
"I met Darren when I opened for Ben Folds Five a few years ago,"
explains Rouse.
"He's a great drummer with a loose feel and I like that. Pat Sansone [bass and keyboards] ran into him in New York and told him about recording with me, and he said he was a fan and would like to be a part of the record. Darren and Pat can really play, so the tracks were not as stiff as on 'Home'."
Recorded in just three weeks in Nashville with the trio laying down basic tracks - the majority of overdubs being handled with Pat - it was a process that appealed to Rouse.
"Basically, it was a two man team. I found working with less people to be more efficient and less argumentative," he says.
Camping in Copenhagen [from 'Comes with a Smile Vol.2'] became Summer Kitchen Ballad on 'Under Cold Blue Stars'; a rare case of Rouse reworking material for different projects.
"After I write and record something, I rarely do a different version,"
he explains.
"In that case, I wanted something easier on the ear than the original version. I changed the song to fit the record."
Such listener-friendly decisions makes challenging his audience a low-priority objective.
"My goal for the future is to write the most simple, catchy songs that only require a voice and guitar to completely come across,"
he says.
"If my audience is challenged, it won't be on purpose."
'Under Cold Blue Stars' should finally see Rouse lose the limiting 'Americana' tag, although it's evidently not a priority for him.
"I don't have any intention of shaking it,"
he states.
"Because I'm from America. That's all it really means to me."
Which is a healthy attitude, but 'Americana' is a term which holds other meanings for the public at large; inextricably linked to a notion of country music and it's 'alt.' descendants. While bands like Lambchop are pushing the boundaries of what constitutes 'alt.country' and 'Americana', there is little on 'Under Cold Blue Stars' or 'Home' to tie Rouse's music to this tradition beyond geography.
"The UK's ideas of what constitutes 'alt.country', or even 'country' has confused me for some time now," he says, suitably perplexed. "I've seen several of my peers, as well as bands I admire labelled as alt.country... The Replacements are not fucking 'country'! Obviously there is a difference of opinion in the US and in the UK. Hank Williams and Garth Brooks write and perform 'country' music. I write moody little pop songs."
The positioning of his label Rykodisc and its Slow River imprint further add to the idea of Rouse as a singer-songwriter with 'country' associations. While this may have established a fanbase for him, it has perhaps also inhibited his marketability to a wider audience.
"[My debut] 'Dressed Up Like Nebraska' came out and, one, the artwork was very classic American, two, the production was an acoustic homespun sound, three, my label had a reputation for putting this kind of music out and, four, there is a market for it in the UK. In the US [the market] is very small. My music has a broad appeal, Ryko knows this as well, and they're not purposely trying to market me as alt.country. However, it's some type of angle for the press to talk about, and the press is usually responsive in Europe. I'd like to reach a larger audience than the forty year old English crowd, not that I don't appreciate them, it's just what the country tag has done."
A high profile support slot with corporate favourite David Gray won't have diminished Rouse's chances of crossover success, but is fame something he'd embrace should it come his way?
"I like things where they are now,"
he offers.
"But I wouldn't mind millions of people buying my record. I think most people that make commercial records - in that they are for sale, and someone is making money, whether it be Smog or Britney Spears - want a lot of people to hear their music. I'm not sure how big I could become because I'm not willing to do certain things, such as kiss corporate ass. I don't play fucking games, man! However, if you were to put me on the cover I would be grateful. It's really to reassure my mother that I have a career, she really doesn't get it."
CWAS #10 - Spring 2002