cwas#16 / cwas#11 / cwas#10 / cwas#9 / cwas#8 / cwas#7
cwas#6 / cwas#5 / cwas#4 / cwas#3 / all interviews / search
Darren Hanlon
by Matt Dornan / pictures by Frida Eklund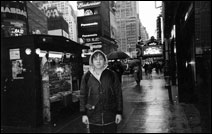 "Generally you put a microphone in front of my face I don't shut up,"
says Darren Hanlon, for four years guitarist with Australia's The Simpletons, (and trusty sideman to The Lucksmiths and The Dearhunters among others), but now a fully-fledged singer-songwriter with a full-length due in this first half of 2002 following up his acclaimed mini-album debut, 'Early Days'. With its endearing mix of pop sensibility and wry lyricism, 'Early Days' announced Hanlon as a major talent to those willing to listen. During his recent UK trip, I had lunch with Darren and his Swedish girlfriend, Frida, on a rainy King's Road.
"It's weird coming here,"
he says.
"Because it's always a fleeting visit and, generally, it's via The Lucksmiths connection."
Darren had squeezed in a few solo dates in London and Brighton this time around, with a Saturday afternoon's set in Notting Hill providing an opportunity to preview some new material and regale the audience with illuminating anecdotes.
"It's bad when it gets to the stage where people expect you to talk all night when you don't feel like it,"
he says of his onstage banter.
"It amazes me how David Letterman is chirpy every night. And The Lucksmiths, they're masters at it. Sometimes it's like talking to a brick wall, it's hard."
It's a situation that, surprisingly, he experiences at home too.
"Each city's pretty much different. It's always really hard to read the audience, some people might be getting into it but some people don't want to hear you talk, they just want to hear music. For a lot of my songs, when they are solo, you really do have to give some explanation to the songs to draw people in a little more, and it keeps people from talking. And I'm not one of those Nazis that tell people to shut up."
Of the new material played on this trip, Operator Get Me Sweden stood out. Presumably the song was inspired by his long-distance relationship (the couple met whilst Darren was touring in Sweden and Frida accompanied him as a backing vocalist on a tour of Ireland, supporting Billy Bragg), but the shipwreck analogy is an unusual device.
"It was meant to be a Lee Hazlewood-esque song,"
he explains.
"I was thinking of writing something I could imagine Johnny Cash singing. I thought 'what is a stereotypical thing about Sweden, or Stockholm, in the same way that the Sydney Opera House is representative of Sydney?' So I looked in all the 'Let's Go' books and Sarah [Corbett of Candle Records and occasional CwaS contributor] is a Sweden nut. She was saying, 'Oh the Vasa! It's the biggest tourist attraction in Sweden.' So I started researching it and then realised the story was amazing; this boat that gets preserved for 333 years... When I got to see it they don't let you onto the ship itself, but there was one part where you could lean over the railing and touch the keel. And it was all kinda wet, then I realised they coat it in polyethylene glycol or something so we had migraines for a couple of days after that..."
Similarly atypical in subject matter, Hanlon has penned an ode to his Hollywood hero, Eli Wallach. Since first seeing the actor in 'The Good, the Bad and the Ugly' ("I just love that movie, I'm trying to see everything"), the fixation grew to such an extent that the two inevitably crossed paths.
"I'm going to New York to interview him,"
he enthuses.
"I'm really worried about that. If it happens - because he still thinks I'm a freak - it's going to be a bonus disc with the new album so that people at least know who the hell he is. He's eighty-seven now. I did meet him, I gave him 'Early Days' and he thought I was attacking him; I was screaming, running up the street. He was a good friend of Marilyn Monroe's. I'm reading a book about her at the moment to find out more about him. She actually wanted to sleep with him, she had a list of all the people she wanted to sleep with and he was on it. So that's his claim to fame. Tough job."
Hanlon's most recent release, a 7" only re-recording of Video Store continues the movie theme on a more local scale.
"The Indian guy on that cover, Bobby, is a classic,"
he says, excitedly re-telling the story behind the single's cover shot of an Asian couple, all smiles behind the counter of their video shop.
"He says to me,
[adopts Indian accent]
'You know Darren, no one's listening to records these days, it's all CD now'."
(Which reminds me of the sound advice I once received from a potential CwaS stockist who said "Have you thought about making your magazine A4? It'll fit in our racks better".)
"He's such a great guy,"
Darren continues.
"And the first time I met him he didn't say much but the next time he's like, 'Darren I missed you, I missed you, would you like a drink, refreshments?' And then we explained that we wanted a girl, a couple. And his wife works there but he's like, 'Oh, no, no... I know another lady, very attractive...' So he rang this woman, - turns out she's on the shop database - and he asks her to come in for this 'professional' photoshoot. She was really shy and then, when we brought the singles in to show him, his wife was there and she's like, 'Yes, you and your girlfriend' and then slams the door, they had this big domestic! So funny."
Not that Hanlon's material is strictly a collection of quirky observations and oddball subject matter. As he explains, some of the new album may surprise his audience.
"I think it's definitely a lot different from 'Early Days'. The guy that I'm working with, Chris Townend... He was in an Australian band called Kiss My Poodle's Donkey, which were like experimental noise. With his friend Oren Ambarchi they got a band together called Sun that you would love. And I loved them sonically as well, rang him up and he was right into it. Oren does whole albums of guitar electronica, plays with Sonic Youth and The Flaming Lips... he played drums on it. I've got three different drummers on it. Chris' nine-year-old son who's a genius glock player plays glockenspiel on it. He's in a band called The Poo Touchers with his dad. And a classical harp player, pedal steel, just all different kinds of stuff. They all come from a different background so they're like, 'what do you call this music?' They think my music's weird."
With clever wordplay and abundant lyrics in increasingly short supply, Hanlon and labelmates The Lucksmiths seem to be upholding some kind of tradition.
"Anthony Atkinson from the Mabels and Marty [Donald of The Lucksmiths] and I have had long discussions about songwriting," he begins. "We're all really different songwriters... This is all really weird for me, I don't really consider myself a songwriter yet, I think I have a long way to go. But Marty spends a lot of time, and really works at it. He's an intelligent guy, he reads a lot. Anthony can make up a song on the spot and I'm probably somewhere in between. I need the inspiration, some magical lightning bolt to come out of the sky and then sit down and work on it. You get the feeling first and then put some brain into it. I'm not the most prolific songwriter, it's speeding up more and more lately. The Simpletons was mainly another guy's songs, guy named Cheyne, I reckon he's the most original songwriter on the Candle label but he's just doing nothing. His lyrics are amazing - you just wonder, 'where did that come from?' You can't trace it, it's just totally unaffected. I wasn't really into songwriting at the time but I did ask him, he's one of my personal heroes. He said he'd never ever thought about it, he just did it. He didn't listen to a song and go, 'oh, I wanna write one like that' he just did it. That's the key, to be unselfconscious. He's good. Bastard. I locked him in a lot of gas station toilets on the road, just to get him back."
Inspired by wanderlust and a growing frustration with his guitarist role, Darren ultimately stepped out on his own.
"I'd been doing a few solo gigs every now and again,"
he says.
"I was the guy you could ring up in Sydney when a band cancelled, I could be first on, just bring a guitar down and do it. I've been doing it since I was fourteen, singing other people's songs. I had my first band in Gympie, where my dad's farm was. I played with my cousin on drums, it was the Jonathan Richman format when we were fifteen. We were called Rick and the Radials, playing country dances and stuff so it's not such a challenge. Well, it's a challenge, of course it is, but you don't get so worried about being solo."
CWAS #10 - Spring 2002