cwas#16 / cwas#11 / cwas#10 / cwas#9 / cwas#8 / cwas#7
cwas#6 / cwas#5 / cwas#4 / cwas#3 / all interviews / search
His Name is Alive
by Martin Williams / pictures by Paul Heartfield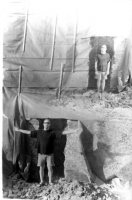 If it's true that humankind is spliced between the 'watchers' and the 'doers', then Warren Defever - writer, producer and plate-spinning Everyman within Michigan's eclectic His Name Is Alive - falls squarely into the latter camp. Never one to idle on the touchline, when he's not overachieving in a band set-up he might be found making music under a selection of other names, he's directed a number of short films and also published several childrens books, each with - yikes - a clear moral message. Despite his activity, Defever remains a reluctant frontman ("when we play live I'm always at the back") and, it seems, an equally reluctant interviewee as he perches on the edge of the 4AD sofa with an amiable mix of disinterest and nervousness.
Defever professes a dislike of the UK that goes hand-in-hand with his slightly bonkers pledge never to work with anyone whose house he can't walk to.
I don't really like anywhere outside my house,
he deadpans with just a trace of paranoid agoraphobia.
But here he is, having dragged himself and the band over to Britain for a few dates, and maybe the occasional game of stage hoop-la, on the back of His Name Is Alive's latest album Fort Lake. Defever's disparate work ethic is equally applicable to his band's records. Any listen to His Name Is Alive elicits a kind of channel surfing effect as motley genres - dub, gospel, rockabilly, funk - blur seamlessly together, sharing little else but the same sheeny production. Kids today are able to take in a lot more things, he says in affirmation of this dilettante MTV sensibility. Wearing his current fascinations on his sleeve, as well as a penchant for what he calls Detroit Booty music, it's easy to detect a love of Hendrix in the extended guitar throttling of songs like Don't Make Me Wait and Wishing Ring (especially the ludicrously distended fret-wank on the version from the B-side of the single Can't Always Be Loved.) So is each album a reflection of his listening at the time?
They are, yeah,
he considers.
But by the time they've come out I've moved on.
Okey dokey. In the past Warren has taken hands-on control of all aspects of HNIA's output - writing, editing and recording the music, penning the lyrics and producing the songs, as well as allocating the idiosyncratic titles (of which Up (Up Your Legs Forever) stands out.) For Fort Lake though - taking deep breaths - he loosed control somewhat, sharing the writing credits with bassist Chad Gilchrist, and turned over some of the production to ex-Funkadelic producer Steve King (born and raised in Warren's hometown of Livonia, naturally.)
He was really just another friendly face,
Defever says nonchalantly of King's presence, both in the studio and at their live residency at the Gold Dollar club in Detroit, which, he adds
, used to be an old transvestite bar.
It was here that the sound of Fort Lake, with its Jetsons-meets-George Clinton combination was defined. Did you start out with any musical agenda?
No, no agenda at all really. It all developed while we were playing. And the songs let me know when they're ready.
While lesser mortals are content to plough genre-specific furrows album after album, Defever is happy to spread himself thin, prefering a pick 'n' mix ethic. From where does he get this short stylistic attention span? He blames his Grandfather.
I mean, I started playing music when I was seven. I would go to my grandpa's house and pick up his banjo and play guitar and fiddle and stuff.
But, then again, maybe Warren's just contrary.
I thought I was being a rebel.
CWAS #4 - Winter 1998/9 - The Lost Issue