cwas#16 / cwas#11 / cwas#10 / cwas#9 / cwas#8 / cwas#7
cwas#6 / cwas#5 / cwas#4 / cwas#3 / all interviews / search
St Thomas
an interview with Thomas Hansen by Matt Dornan / pictures by Paul Heartfield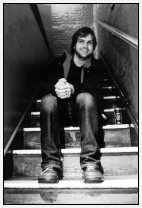 St. Thomas preaches the gospel according to Elliott Smith and Neil Young. The young Norwegian's debut album, Mysterious Walks, - belatedly given UK distribution this year - tracks a path from the bedsit angst of Smith's early recordings to the fireside warmth of Young's Harvest.
Whilst it's easy to add Will Oldham and his alt.country peers to the equation, Thomas Hansen's worldview remains uniquely his, as does his infectious, alcohol-fuelled stage persona. The bizarre sight of the trim-bearded Hansen emoting into a sock (presumably a shock-resistant, makeshift microphone cover) during his appearance at London's intimate 12 Bar Club was outweighed only by his sudden, unexpected exit stage left. Frustrated at the sputtering CD player, that was struggling against the combined vibration of the PA and his own frantic dance routine, Hansen flew into a rage and off the stage, dragging guitars and mic stand with him; the shocked yet enthusiastic applause no doubt mixing with the alarm bells ringing in his head.
"We were told beforehand that both our London gigs would be sell-outs,"
he tells me a few weeks on
. "In my dreams I had imagined total applause followed by a huge amount of autograph writing, and I was disappointed that it did not turn out like that."
It's an idealistic attitude, out of step with the reality of our spirit-sapping capital.
"I am a dreamer,"
he admits
, "and I sometimes live so much in them, that I get very disappointed when I find out which world I am in."
Amid the naivete lies an element of realism that has seen Hansen through tougher times than this.
"Incidents like that have happened in Norway too. There are so many feelings inside me while I perform, but I am learning all the time, and I think I can control myself better than [before]."
And the date at the 12 Bar which concluded the British trip came at the end of a gruelling week peppered with misfortune (as detailed in the article with label and tour-mates Ai Phoenix elsewhere in this issue)
"The amount of bad luck in Great Britain was, I think, the final thing that made me go wild. I could sit here and write on this question for hours, but I stop now, before it turns into psychology."
With a new album due this Autumn, Hansen is already an established artist at home. His former band, Emily Lang, provided an albeit shaky platform for his burgeoning songwriting talents ("We had some very good melodies, but we were not the right gang to play together, just some shy students wanting to socialise") and the now impossible to find solo debut, Surfer's Morning, set him on the solo path. It's not necessarily a role he's comfortable playing.
"I am not a strictly solo performer. If the record company could afford to pay a backing band to travel with me, I would have accepted at once. On the new record that I just recorded, I invited six of my best friends to join me, and I was very happy with the result."
It's an approach that will see St. Thomas expanded as a live unit on the festival circuit this Summer (both the Roskilde and Quart festivals are confirmed thus far), with violin and banjo added to the regular guitar, bass and drums set-up.
Whilst continuing to record under his adopted moniker, Thomas' lo-fi approach and emotionally bare lyrics certainly betray an affection for Elliott Smith, a comparison he's only too happy to endure.
"I think Either/Or is the best album I have ever heard," he swoons. "And I also love his first two albums. The sound of early Elliott Smith is so honest, pure, cool and very, very, very mysterious. As I started to record songs, I wanted to be Elliott Smith. After a while, luckily, I could find my own style, but yes, he was my big inspiration."
Mysterious Walks has received an enthusiastic response since hitting our shores, and it's an album of which its creator is justifiably proud.
"I love Mysterious Walks, I believe in the energy from the first take, and the exact moment when you make a new song. Most songs from Mysterious Walks were both recorded and made at the same time. That explains the intensity...but you can hear some small differences in the new album, if you listen carefully. First of all, the new album has a better sound. It was recorded and produced by Robert from Ai Phoenix, and we used an old analogue eight-track machine this time. Another difference is the mood that I was in while recording. I was happier being with myself, in much more harmony, not so angry, bitter, sad. Of course there are sad songs, but they are not so wild, they are more controlled. There are beautiful melodies and some very happy/crazy sing-a-long la-las. And there are also a number of guest-players, doing different things like banjo, Hammond organ, harmonica, violin and other stuff. On the first album I did most of the things myself, on the new, I just stick to my voice and my guitar, and some percussion now and then..."
CWAS #8 - Summer 2001