cwas#16 / cwas#11 / cwas#10 / cwas#9 / cwas#8 / cwas#7
cwas#6 / cwas#5 / cwas#4 / cwas#3 / all interviews / search
Tram
an interview with Paul Anderson and Nick Avery by Matt Dornan / pictures by Paul Heartfield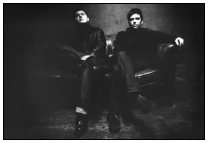 How did you retain the warmth of an analogue recording working in a digital way?
Paul: Well, I think it's got a lot to do with rolling the treble off! [Laughs]
Nick: We had no choice either, we couldn't record this album on an analogue eight-track machine. There's too much instrumentation going on. So we really had to make a move to digital so we had more channels.
Paul: We just got a really good sound card and it sounds great. I never really listen to it and go 'ooh, if only that had the warmth of analogue.' The advantages [of digital recording] are so [much] greater.
You've spoken of reservations over the first album, elements that you were dissatisfied with, is it too early to view the new record similarly?
Paul: I'm quite happy with it, there's bits that could have been done better, but we were learning 'on the job' really. And the fact that we mixed it in about a week...possibly we could have had a bit longer but if we had we'd have probably thrown it in the bin...
Nick: The other thing is that it's really great that it actually happened. Because [previous label] Piao! folded and we were thinking 'What are we going to do now?' To do the album and complete it is a milestone in itself. To get the equipment and spend the money in the right places and produce something that people really seem to like is enough at the moment...for me anyway.
Paul: My only regret, really, is that we didn't get to play many tracks live, apart from Once I Was that was mostly live, but we hope to address that a little bit on the next album. Under the circumstances it's something we're very proud of.
Was Once I Was always going to be on the record? You recorded it for the Tim Buckley tribute album...
Paul: Once we'd heard it in its finished state and, also, the response it got from the few people who'd heard it; we just thought 'it's too good not to use.'
And was it the first thing that was ready, was it recorded mid-album?
Paul: It was actually done in January 2000, but we hadn't even got a deal at that point. We're quite lucky because even though we didn't have a deal there was still stuff coming through to do, like that one-off track and stuff. And then we signed our deal a couple of months after we'd finished that.
Did Once I Was help shape the sound of FAQ's? Presumably you didn't want the track to stand out because you'd used a different studio/producer set-up?
Paul: I have to admit I did listen to it on occasion as a reference; to see how John Parish had mixed it because we were just trying to learn from everybody at that stage. We thought it sounded good and thought that if we were going to use it we might as well use it as something to compare things to. At the end of the day it's us playing so it's not going to sound that much different.
What about the prospect of singing a Tim Buckley song, for you as a singer?
Paul: I thought 'Okay, here's an excuse to give it a bit of a go on the vocal front.' Because the first album's a bit subdued vocally and it gave me a bit of confidence after I'd done [Once I Was] to sing a bit more, which I guess I've done on the second album. As I said, the feedback from people who'd heard it was 'you should do more of that.' I don't hold Tim Buckley in high esteem or felt scared to sing it but I knew I'd have to hit a few higher notes than usual.
He has a reputation with some others as 'dangerous territory' because he is known as a 'great' singer. The challenge of any cover is to make it better or, at least, different from the original. Was the choice of song down to you?
Paul: I didn't have any of his records and neither did Nick, so we got them sent to us and trawled through them. First of all I picked Dolphins, and realised it wasn't him but Fred Neil who'd written it and then I came to [Once I Was] from the live album, and thought 'we could make that sound more like Tram.' Change the time signature etc.
There are two core members of the band and you expand the line-up for a live setting. Is this a control issue? Do you envisage Tram ever becoming a full studio-band?
Nick: I don't know really. Ultimately that's more Paul's territory...
Paul: Well I always think that all you need's a good drummer and the rest is just padding [laughs]. No, there is a core of people that we'll generally use I think, but it's more convenient this way.
Nick: It seems to work quite well, so if it ain't broke don't fix it basically. But, I suppose, it's quite nice that you can mould things how you want rather than have lots of people wanting to put their own parts in. You can control what you're doing much more if you're hiring people in.
Paul: The trouble with having a band is that you have to justify a role for every member for every song. It's quite difficult to say 'sorry, we won't be needing you on this track,' cause they'll get a bit upset. But then nobody in there's sole project is Tram.
Nick: We have looked before and found it incredibly difficult to find the right people so, I think in the end, we just gave up and continued to use people we know well on a part-time basis - we knew we could work with them.
You're very keen to use acoustic instruments, rather than synthesised versions of them. When you're composing are you imagining the sounds you want in each song or do other members bring ideas in?
Paul: To be honest, everybody who played on [FAQ's] played a part I'd written. Whenever I write a song the whole thing presents itself in stereophonic form to me. I write the strings and horn parts on a keyboard and play around with that. We start with the guitar and drums, getting them to compliment each other and, once we've got that down, I'll add to it. By recording at home we had the time and a little bit of money to hire the people with the proper instruments to come in and do it. It's much more fun anyway; we'd no idea how to mic a cello up, we were just, like, 'uh, put it there' and we seemed to get away with it!
A relaxed atmosphere then?
Paul: I wouldn't call it relaxed! I don't think I had a relaxed six months to be honest.
Nick: It was a different sort of pressure...
Paul: It's difficult when you know a song needs something and you go 'what is it?' and you don't rest until you get it. But it was great to use horns and strings, proper human sounds.
Do you imagine taking that further and incorporating full string sections?
Paul: That would be nice but session musicians are really expensive. The thing is we didn't want to go too far and make it sound like a Morricone soundtrack or something; it's still got to remain organic and I don't think we pushed it too far. I think the way forward is work with the dynamics and try to get more of a live feel.
I noticed on your web-site's Top Ten albums of 2000 that there weren't too many 'rock' records in there. If you were to do an impromptu all-time Top Ten would there be anything from the 90s in there? People seem compelled to have a Beatles album and show a reluctance to feature too many contemporary artists. We know yours won't feature Tim Buckley, but would we find a sizeable selection of classics in your collection?
Paul: Oh yeah, I've got a huge Seventies collection on vinyl, which I'd be unashamed to bring out.
Nick: I think I'd be ashamed to bring mine out...
Paul: Would you? Oh yeah, you've got a lot of Frank Zappa and stuff in there...I'm a big Zeppelin fan, for example. Deep Purple...all those bands, I love 'em. If you actually listen to Tram really carefully, they're just those riffs slowed down. Listen out for them...
Did anything good come from the eighties, musically or otherwise?
Nick: Only that you can look back on it and pray that it never happens again...
Paul: There were some good things...that C86 period was quite good, and bands like The Wedding Present were starting out...The Smiths. Towards the end of the 80s we had stuff like Primal Scream that was pretty good and then the American invasion at the end...but I agree, I didn't buy into that whole electronic thing.
9 of the 10 acts in your Top Ten are of American or Canadian origin. Do you have any British contemporaries that make the grade?
Paul: I like Movietone...I don't know actually, I quite like Piano Magic
You don't feel a 'scene' mentality then?
Paul: People who listen to us might be able to tell us more...
A couple of other things came up in my 'research,' one being that you use the internet for 'shopping' - I was interested to know what you buy on-line...
Paul: [laughs] I bought some software I think, a graphics card. I just thought 'I can't be arsed going out today.' I've bought CDs and books and stuff. I can click 'yes' turn off the computer and get on with things.
Nick: As a research tool [the Internet] is a Godsend. I don't tend to buy anything off it myself... Paul: If anybody wants to buy our first album, you can purchase it through www.tram.org.uk!
On a more serious note, you identified 'the most evil thing in the world' as 'greed.' We can assume then that money wasn't your motivation for entering the world of music?
Paul: Oh, good grief, no! You've got to compete with so many things now, not just music, different ways to spend your money. As long as I think that we're moving forward then it's worth doing. If I think we're just trudging out the same nonsense and not making any inroads then it's a waste of everybody's time.
Does the Setanta deal mean another record is a certainty?
Nick: They seem quite happy and we've sold enough records for them to want to do another one with us, so. From what we hear it seems to be going quite well in sales terms.
Are you one of these people who cannot be inspired to write when you're content and happy? There's a dearth of lively pop songs on a Tram album...
Paul: Well I usually write the music first and I just end up writing melancholy music and happy-go-lucky lyrics wouldn't work. If I want something happy I don't go to music, I go to some other form of entertainment. If I want a laugh I'll watch some comedy.
CWAS #8 - Summer 2001