cwas#16 / cwas#11 / cwas#10 / cwas#9 / cwas#8 / cwas#7
cwas#6 / cwas#5 / cwas#4 / cwas#3 / all interviews / search
The Cash Brothers
by Stav Sherez / pictures by Maike Zimmermann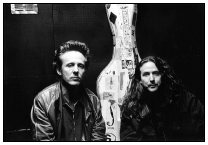 "It'll be an instrumental the next time around"
says Peter Cash, the long haired one with the laid back drawl, on the evening of the Cash Brothers' first ever London date.
"But not a concept instrumental, just an instrumental."
Andrew Cash adds.
"We'll save that for our Prog-country phase - oh my god, heaven helps us all. That'll be Jethro Tull's comeback record, it'll be prog country."
He says in a nervous, intense voice that is quite unlike his brother's.
One of the highlights of last year's Loose 2 compilation was the Cash Brothers' Nebraska, a tribute to the classic Springsteen album that featured chiming guitars, effortless sibling harmonies and a subdued, broiling atmosphere that had Future Rock Classic written all over it. Much was expected from the Canadian duo's debut album, Raceway, but except for a hardy few willing to brave the expense of the Import racks, no one got to hear it. This year they released their second album, Phonebooth Tornado, and again, outside of Canada, it was rare as a free parking space is in London these days. All this is about to change, however. Signed to Rounder, Raceway is being re-released, albeit in a re-jigged and re-sequenced format, with the new title of How Was Tomorrow. Sitting in a room so small that it almost feels like an item of clothing, with the melliflous tones of Jimmie Dale Gilmore soundchecking in the background, I asked them about their motives for the re-shuffling of Raceway.
Andrew: Part of the reason we did it like that was because we've already put out another record since then, so we wanted to have a couple of new songs anyway on a record over here. You know we tried very hard to get Raceway released over here and it just, for various reasons, wasn't on. It's perilous you know, hopefully now we won't have to do that again, we'll sort of catch up. The next record we record will be the same record that comes out over here. I think a lot of bands end up in this situation, certainly in Canada we always get records from the UK that are a different configuration from how they were released originally. I remember the first Clash record I had was not their original UK record.
How did you go about choosing which songs would stay and which would go? Was it done by committee?
Andrew: It was definitely by committee. There's a song on the Raceway record, Priceless, which I don't know if either of us were always totally loving, so when it came around to thinking, well, what will we drop and what stays? That was one where we thought, let's take it off because we were never totally sure. In a way it's kind of a neat process. We tried to look at the record as which songs stood up the best as songs
Peter: We had a lot of people who gave us their opinions also, and so it was definitely by committee.
Any level of frustration, given that some of the songs are going to be at least two years old to you?
Peter: Well, for us, as far as playing goes, we haven't done a lot of playing with these songs, so the majority of them were recorded a couple of years ago but it still seems fairly fresh because it's like we're just starting.
How does the division of labour pan out? Do you each tend to sing the songs you write?
Peter: Generally, but we do mix it a bit and I hope that we'll mix it more. We tried to make [Raceway] so that it felt like a whole record not just two different records, one that was mine and one that was his, we tried to find some common ground.
You were both, separately, in a number of bands prior to your getting together. Do you ever play songs from that period?
Peter: Yeah, sure, we haven't really recorded any of those songs but we play them live. Again, it's like people in Canada know some of those songs so we bring them out there and probably at some point over here too. We have a lot of songs that were recorded and written around the Raceway period that didn't make it, so there's a lot to choose from.
Andrew: Songs are just there and sometimes a song fights for the right to be heard - we ignore it and ignore it and eventually we don't ignore it anymore and, actually, a song like Nerve, which is on Raceway and the new release, it sort of sat around for a long time before it ended up seeing the light of day and, in fact, Peter's old band they recorded a version of that song on a record.
You first came to attention in this country through the inclusion of Nebraska on Loose 2. Is Nebraska, the Springsteen album, a big touchstone for you?
Peter: For myself, that album came out in '82 which was right around the time I started to write, a little after that. So it was a big record for me because on that album he was writing in a way that I could write myself or that I started to write, actually. So, for me, that's where I started, pretty much around the time of that record. It's been a big record.
A lot of your songs detail characters driving at night, normally driving away from something - it's a reoccurring theme, that and the sense of physical alienation.
Peter: The songs that I write well are songs that I can kind of pinpoint that moment where you feel that way, you know, and I have found that a lot of people have commented on those kind of songs and they relate to those songs so I keep writing them.
Andrew: The other thing too is that you can say that getting into a car, even though it's a well worn American myth/pop culture sort of construct but it's also the way people spend time alone - like that's how people do it now, they go in their car and for better or for worse, it's a moment when you're alone and maybe the only moment - it's weird but that's what it's come to in North America, stuck in traffic. So it's a place...to go off...you're stuck in there but you're traveling in many different ways when you're there.
Do you feel that there's a different musical aesthetic between Canadian and American bands?
Andrew: I think that there's some differences for sure, like we couldn't...if we wrote a song about a broken down Chevrolet on the outskirts of town, it wouldn't ring true because that's just not the culture we come from. For us it's different and how is hard to say because we don't articulate it too well, especially when you compare it to this mega-myth of the American South or West or wherever the hell. It's interesting though - that song, Nebraska, Springsteen set it in this place in America, but there's very much a Canadian feel to that...it's the landscape, it's the weather - there's something about the tone of the tune that doesn't feel too disconnected from where we're from.
Peter: Except the part where someone gets murdered in it.
Andrew: Oh, people do get murdered in Canada...quite a lot.
Suddenly the background noise stops. The sound of jacks being pulled from guitars and amplifier squall reverberates around the room. Jimmie Dale Gilmore walks in, a smile spreading across his face, as the Brothers gather their gear and prepare for their first London show to a sold out Garage audience. During the concert, Andrew delivers droll prefaces to most of the songs and when they play the opening chords of Nebraska, huge cheers ring out and grown men are seen to cry.
CWAS #8 - Summer 2001