cwas#16 / cwas#11 / cwas#10 / cwas#9 / cwas#8 / cwas#7
cwas#6 / cwas#5 / cwas#4 / cwas#3 / all interviews / search
Mazarin
an interview with Quentin Stoltzfus (and Brian McTear) by Matt Dornan / pictures by John Cheves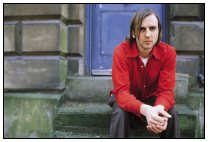 ... any time I read the Monkees I think they could dig a little deeper than that. When people talk about music they talk about it from their own points of reference, and if their points of reference for pop music are The Monkees and The Beatles then that's all their gonna say. What can you do?
After all, when Watch It Happen, (this joyously eclectic record that landed on my doorstep from a friend in Japan in the morning and in my eager palm that afternoon from everyone's friend, Vinita at Rocket Girl), worked its magic in my room I found myself thinking, 'Cool, a band that sounds like Robert Schneider and Mark Kozelek hooked up for an afternoon.' So, am I right?
The Red House Painters, I can definitely see that. I actually only started listening to them recently, Sean Byrne who plays drums, gave me a CD and I loved it, it's great. And Apples In Stereo I've listened too since Fun Trick Noisemaker.
Please excuse me while I wallow in my smugness. Seriously, the home-made feel of the album is reminiscent of the Elephant 6 crew and, as it turns out, this may be more than coincidence. Quentin explains:
I ended up hanging out with them in Denver and actually did an interview with The Minders, and became friends with them through that. Took a trip to Texas and from Texas drove to Denver and stayed with them for a couple weeks and, while I was there Neutral Milk Hotel were recording Airplane Over The Sea, The Minders were there and we all hung out for a couple of weeks. That was great, it was fun and I learned a lot about recording, picked up little hints here and there.
Yet, before we get carried away with this comparison thing, much of Watch It Happen owes little to the Pet Sounds-revisited aesthetic of the Denver collective. Considering Quentin's role as drummer for space-rockers Azusa Plane and the loop-driven, experimental pieces that infiltrate the record amid the pure pop sensibilities of Deed To Drugs, Sicily, Chasing The Girl and first single, Wheats, it was only natural that there were other forces at play. And, thankfully, the desire to make Watch It Happen a quartet of side-projects was resisted.
I was concerned about it. I thought there's gonna be a small demographic of people out there that are gonna get the entire album, who can see the validity in this song and that song. I got really annoyed, you know, in the late nineties - phew - when there was, for example - not that I hate this person but just as a point of reference - the Will Oldham thing. Palace, Palace Brothers or however many names he had for his first band - it just struck me as being a bit absurd and a bit on the pretentious side. Why is it that one person needs to have multiple names for different projects that are still coming from this one person?
A question I'm fond of asking...
Because unless there's a completely different structure involved and different conceptualisation I don't think it's necessary. Going to the influences question that we were avoiding, at the time of this recording I was listening to Kraftwerk, a lot of Neil Young, Faust, John Fahey, Ornette Coleman. Basically, the gamut. Electronica... Squarepusher and Autechre. Anything you can think of, from Johnny Cash to Stereolab. If you like all kind sof music, why can't you make all kinds of music and put it all on one nice package? We went in many different directions but each song has a connecting element, there's a theme that goes along. Maybe my voice or the instrumentation, I don't know. It just flows well. My objective when making this album, conceptualising it, was to have a record you can sit down and listen to the whole way through and not get bored with it. Basically a mix tape.
A mix that includes some of his four-track dabbling, labelled "Therisphere recordings" according to the liner notes, that Quentin assembled in the few years preceeding Mazarin's debut.
Yeah, in Henry Darger, the underlying 'hhring, hhring', that was something that I had done on four track a couple of years before. We used little samples from that stuff throughout the recordings. Also, on the b-side of Wheats, John Cage's Box of Feathers is the most intact thing that's been released. That was something, I guess, I did back in 96. We mixed it a little differently in the studio but it's pretty pure representation.
In the same spirit, the insistent backdrop of December's Coming and the brooding instrumentals Progress Is Lovely and "500 Repetitions ..." belie such leanings. The question that begs to be asked is 'where do the pop songs come from?'
You know, I think most experimental musicians that I know are big fans of pop music and Jason DiEmilio [Azusa Plane], my roommate, we've always loved pop music. It's what I grew up on and it's tough to just be into one style of music, for me. And also, experimental musicians in general seem to have a very broad range of tastes. I kinda always had the desire to write pop songs but never really had the confidence to do it or thought that I could pull it off. I guess I just got sick of thinking about it and thought 'fuck it, I don't care what people think, I'm just gonna do it. If they like it fine, if they don't like it fine.' I guess the thing that would have killed me would be looking back on my life thinking 'Oh, I really wanted to write pop songs but I didn't because I was too afraid.'
During an unsettled period in 1998 Quentin, living a pretty transient lifestyle,
("staying on friends' couches during weekends in Philadelphia")
was inspired to write a sizeable chunk of the record prior to entering the studio.
Writer's block for me isn't [a problem]. I mean I've gone through phases where I didn't feel like writing songs or I didn't feel like doing a certain style, there's only so much you can do if you have any type of imagination.
One such song was Wheats, the catchiest sad song in recent memory.
When I'm writing songs I think 'this is really depressing' and I don't want to write every song about how depressed I am, because I'm not a completely miserable person,
he explains
. Most of the songs that are depressing are moments I have... I have a tendency to write more when I'm not happy cause it helps me figure things out, in my head. With Wheats, I had to explain it my mom because she asked me 'why are you singing about wanting to kill yourself?' I said 'it's just a moment in a day that I jotted down, I don't walk around feeling like I want to kill myself everyday.' But there are days when I'd just rather sleep, or die, whatever. But it's definitely momentary.
Besides, there are other things to sing about. Like Henry, the mild-mannered janitor.
Henry Darger was an American, reclusive artist and the song pretty much tells his life story. He was basically a janitor at a Catholic school for probably 50 years of his life who compiled all this artwork and this 15,000 page work of fiction he illustrated. I went to an exhibit and was just blown away.
The song was originally titled Vivian Girls, and remains as such in the sleevenotes but there were, as Quentin explains
, "too many songs with 'girls' in them! Vivian Girls was the obvious title because that's the first line... I'm a big fan of interesting titles for songs. I probably get that from the Bob Pollard listening that I've done in the past. I like an interesting title, it sets the mood for a song."
Alongside Quentin, both as engineer, co-producer and musician on the album and as part of the live incarnation of Mazarin, is Brian McTear (who, incidentally, produced Matt Pond PA's latest album, from whom Mazarin 'borrowed' strings for Henry Darger).
If I ask him to explain technical aspects, he takes the time to explain what's going on because I'm not a very knowledgeable person when it comes to recording, admits Quentin. This is the first experience I have of a full studio. Not only that, just his opinion in general is always very valuable to me... he's just a nice guy!
It's a sentiment Brian is keen to reciprocate.
Quentin's more willing to listen to people's opinions than most people I've seen. The stuff we did together didn't seem like any sort of fight or a match. It seemed to very mutually respectful, everybody was really happy to let it be Quentin's thing.
It would be a fair assumption to say that Mazarin IS Quentin Stoltzfus, at least in terms of writing and representing his ideas.
I enjoy the recording process so much, and enjoy trying my ideas out and it's fun to have the freedom to do that without having to discuss it with five mutually powerful members,
he says
. I like the balance that Sean [Byrne, drums], myself and Brian have. We work very well together and, as Brian said, we all have mutual respect for each others ideas and we all bring different ideas to the table. We all come from different backgrounds and have different tastes in music and I like that. I don't think I want it to get to the point when there's five people chiming in ideas, although with the live thing there are and it works fine. The recording process I would like to limit it to myself and just a couple other people because it's nice to keep that close, keep that tight.
CWAS #5 - Summer 2000