cwas#16 / cwas#11 / cwas#10 / cwas#9 / cwas#8 / cwas#7
cwas#6 / cwas#5 / cwas#4 / cwas#3 / all interviews / search
Cat Power
an interview with Chan Marshall by Matt Dornan / pictures by Steve Pitman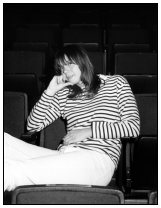 I forgot my fuckin' name!
she laughs, her pen stuck somewhere between the 's' and the 'h.' Chan Marshall, it would seem, likes to forget. She'd like to forget her own songs, forget her last tour and, much to the amusement/bemusement of fans and critics, she'd like to forget to sing the chorus to (I Can't Get No) Satisfaction, the song she chose to open her recent album 'The Covers Record.'
I remember thinking 'oh, this is the part when "Satisfaction" comes up.' I just didn't sing it because all I can see is Mick Jagger. I can't really imagine singing his lyrics,
she tells me before her performance at London's Drill Hall in March.
Traditionally the covers album, as a concept, is an admission from an established 'artist' that the already depleted creative juices have dried up once and for all. More often than not you'll get a lame 'these are the songs that made me want to write' nonsense to somehow justify such blatant contract fulfilling tosh. In the case of Cat Power, however, such cynicism can be swept aside to be replaced by an appreciative nod of gratitude. Chan Marshall doesn't so much interpret other people's material as dissect it, her goal to find the heart. Whether it be the sleazy white boy blues swagger of Satisfaction, the smoky depth of Nina Simone's Wild Is The Wind, Bill Callahan's affecting Red Apples or the definitive reading of her own In This Hole, Marshall inhabits these songs and dresses them up in her own sparse arrangements (all but one of the dozen tracks feature her own guitar or piano accompaniment), presenting them fully formed yet skeletal. Marshall had sung other writers' songs on each of her previous four albums (Tom Waits, Bob Dylan, Hank Williams, Smog) so was a whole album something she'd planned for some time?
Absolutely not. At the end of my Moon Pix tour with the band, around the eighth month I started to become very unhappy playing my songs and I could not stand playing my songs, I felt I was lying every time I did it. So, more and more, my set list became these [cover] songs. I kept pulling them in, pulling them in and, finally, by the ninth month they would ask 'Chan, are we going to play any Cat Power songs?'
With its decade and genre hopping mix of the traditional, the contemporary, blues, folk and jazz standards, it's hard to find a common thread besides Marshall's unifying delivery.
They're songs that at one time or another in my apartment or hotel room or a friend's house or on stage, I'd just start singing that song,
she explains
. And because I sang it once in my house, the next time I might play it on stage. It's like 'oh, maybe I'll play that to calm me down,' because I really hate my own songs. And it becomes a part of my memory, it becomes a song to me even though it doesn't sound like other people and their actual song. It feels better than singing my own songs.
This is a surprising claim when you consider she's referring to the tour in support of Moon Pix, arguably the finest record of 1998.
On stage you fight all different kinds of thoughts and I couldn't really concentrate on them because I was having to sing over the instruments live and that really stressed me out; having to yell and really working hard and the stress of that every night. Because I'm not a great musician and the people I was playing with are really great musicians. I couldn't pay attention to what I could do, naturally, by myself, do you know what I mean? When we first started doing it on tour it was great, you know, there was a lot of positive energy and the first four weeks were some of the best shows I've ever played, but you know ...
Moon Pix was a much more confident record than its predecessors, it was more focused. It seemed Chan Marshall had found her sound.
I wanted to record,
she says
. "That's the first time I ever felt comfortable with what I was doing.
It is likely that some of this new found self-belief worked its way into The Covers Record sessions too.
I guess psychologically, emotionally, whatever, I'd gotten more mature and I trusted myself more, or something.
On the surface The Covers Record seems very simple, in terms of arrangement and structure. For such an assured piece of work it's creation was surprisingly casual.
One through six I recorded in the November before I went to Australia,
she explains
. I knew exactly what I wanted and I went in and was basically waiting for people to get finished doing stuff so I could do what I knew I was doing. The other songs are just, sort of, 'oh the tapes running, play that thing again.' 'Salty dog, salty dog,' you know? 'This sounds really neat, press record!' He's like 'just test out the piano, see if you like it.' I'd have the headphones on and start 'Love me, love me . . . that sounds really neat, press record.' And I'd put a piece of tape here and a piece of tape here and I'd be like 'Okay, I'm ready!' I'd never played [Wild Is The Wind] before. The other songs were like mistakes, impulses, but the first six I'd been playing during shows, so I knew exactly what I wanted when it was time to record.
Chan Marshall doesn't view herself as part of a scene, despite the 'indie' label that she's inevitably stuck with. The Covers Record may just be the album to rid her of that tag for good.
My grandmother and my parents probably could actually appreciate this record. There was this restaurant in Norway I was just at and if you wanted to eat there you had to watch this jazz band but it was all booked up and everyone there was over fifty. And the people were so quiet and I thought 'Wow, I'd love to play to these people,' I bet they'd like it.
CWAS #5 - Summer 2000