cwas#16 / cwas#11 / cwas#10 / cwas#9 / cwas#8 / cwas#7
cwas#6 / cwas#5 / cwas#4 / cwas#3 / all interviews / search
Gavin Baker
by Matt Dornan / pictures by Paul Heartfield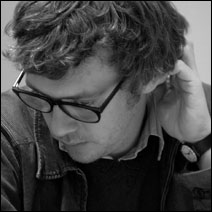 In his own words, Gavin Baker is currently "a five legged beast" dividing his time between the projects listed above. Perhaps best known as guitarist for Billy Mahonie (recently reconvened after a six-month hiatus), Baker's virtuoso talent is matched only by a hunger to find new outlets for his creativity.
"All of the projects I do seem to separate themselves without difficulty," he tells me in an attempt to clarify this potentially confusing period of intensive work.
The most recent venture marks a notable departure for Baker, namely the introduction of his voice to the mix. "Meets Guitar is either folky, acoustic guitar-based or song-based," he explains. "I have always been playing acoustic guitar and writing songs with words. A large part of not doing anything until now was not having the means to do it at home. In October 2001 I purchased a Tascam 8-track which has allowed me to record at home when I get the urge. Many of the songs I am beginning to work on have been around for a while, initially recorded on 4-track or cassette. I guess I have lacked a bit of confidence in my singing to really push it. The solo acoustic track on [Billy Mahonie's] 'What Becomes Before', False Calm, is in fact a mixture of two songs I originally wrote about five-eight years ago, both of which had words." With an EP due on Becalmed Records featuring his father on mandolin and second guitar, the project has a much more traditional feel we've come to expect. "Two of the tracks are 'old timey' country pieces - American country music before it was commercialised in the '30s and '40s," he says.
Further blurring the boundaries, Gavin recently recruited Jet Johnson's Kevin Smith to play drums on a new four song Meets Guitar demo, a line-up that echoes his work with Glider, a transatlantic 'improv' project with Canadian drummer Pascal Asselin, tracks assembled by mail. "Glider utilises the 'improvise and record' and 'write as you record' method of doing things. Sometimes this shows but I aim for a spontaneous feel. With Glider not being a live band it seemed like the most interesting approach." In addition a further project, Frozen Waves, sees Gavin "operate the same way as Glider but with electronic beats and I try to be much more hypnotic and unorthodox in my approach with the guitar."
Of his sideman role in Jet Johnson, the band he shares with Smith, bassist Ian Scanlon and vocalist/guitarist and girlfriend Caroline Nesbø (see interview left), Baker qualifies: "There is a difference between Jet Johnson and the other four bands in that I don't write for them; Caroline does the writing and we work on arrangements as a band."
Somehow finding time to hold down a full-time job, the prolific Baker seems compelled to create -"I always spend at least a few hours a day doing something musical," he admits. "But then I get concerned that the way I do things is rather haphazard. I try and tell myself that some of my favourite music is the same."
Perhaps the most logical next would be to integrate his various musical guises into a solo career that could exercise his versatility, calling upon his many collaborative resources.
"Well it would be a great thing to do," he ponders. "I have been asked to play on new recordings by a few bands I know socially which is very flattering. Also someone suggested I make a record with Mark from Rothko. Who knows? Time is a factor but, once the current plans are completed, maybe I'll do that."
CWAS #11 - Autumn 2002