cwas#16 / cwas#11 / cwas#10 / cwas#9 / cwas#8 / cwas#7
cwas#6 / cwas#5 / cwas#4 / cwas#3 / all interviews / search
90 Day Men
by Ian Fletcher / pictures by Paul Heartfield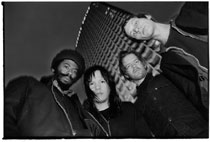 Lifting their name from the psychology book 'The Criminal Personality', the 90 Day Men originate from St. Louis and Kansas, forming in 1995 following relocations to Chicago. After recording early material for the Actionboy, Boxfactory and Temporary Residence labels, the band signed to Southern in 2000, releasing their bizarrely titled debut album '(It (Is) It) Critical Band' in that same year. Sporting a rigid, hardcore Washington DC-inspired sound with sprinkles of a more subtle, experimental edge, '...Critical Band' is a smouldering wall of intensity, indebted to the likes of Minor Threat, Fugazi and Girls Against Boys. Though clearly displaying its influences, outside of the angular guitar overtones, something distinctly deeper, darker and more wide-eyed was emerging from the NDM's brooding recesses.
Joined full-time by pianist Andy Lansangan in late 2000, the core trio of Brian Case (guitar/vocals), Robert Lowe (bass/vocals) and Cayce Key (drums) was now suddenly given full licence to stretch and manipulate the band's dynamic. The airless, claustrophobic, captivating sound of 2002's 'To Everybody' album is the result, twisting the NDM's knife to more underground depths while still retaining a song-driven focus. Elevated by Lansangan's warm, mesmerising keyboard textures, the propulsive freeform stick-slaying of Key and the dub-inspired basslines of Lowe, the band are now able to diversify into breathless new directions. Think less At The Drive-In, now much more Afghan Whigs, Sonic Youth, Bark Psychosis and Slint mixed with Krautrock-influenced minor-jazz inflections. It's a gripping, emotional ride, underpinned by Case's wracked vocals and measured guitar playing, effortlessly providing us with some of the most sublime moments of the year.
Following a lengthy European tour, the group have recently returned home to the Windy City to begin work on their third LP. Eager to understand the subconscious-shifting effect of the 90 Day Men, I tracked down Brian Case and prised information from him via a series of electronic mail exchanges. Whilst not quite directed 'To Everybody' concerned, the following questions are an attempt to unravel the current mindset of one of America's most intriguing collectives...
What kind of mood and spirit were you trying to capture on 'To Everybody'?
I think the main thing we were trying to do with 'To Everybody' was just to be as straightforward as we could be. Perhaps not always musically but certainly lyrically as we wanted to connect with the listener as much as possible. Initially it all really means so much but by the time you track the songs for seven days in a row, listen to a hundred different mixes of them and then tour them for six months, it's often hard to say where the original inspiration for the songs even came from.
'To Everybody' contains only six tracks but somehow feels totally complete. Did you have more songs available or was the record always designed to be so concise?
We just wanted to have forty minutes of music as we all agreed that is the perfect length of time for any album. We had a couple more songs written but they really weren't good enough, so we scrapped them quite quickly. They were never really things we even seriously thought about using, so the six tracks on the record just made complete sense together.
What do you see as the major differences in sound and approach between '(It (Is) It) Critical Band' and your new LP?
With the debut, we were all going in a little blind. None of us had ever been involved in recording a full-length record before and we were working to a really small budget and with a very limited amount of time, so it was very rushed. It all sounds really raw now but that was the direction we were coming from at the time. With 'To Everybody' we knew exactly what we wanted to do. We left Chicago for a couple of weeks and recorded it in Texas at a few different studios. We wanted to focus solely on the music and not have to worry about any of us having to go to a day-job or whatever later on that day. So we just isolated ourselves away from any pressures and worked solidly every day on the songs. I think you can hear it too; the record has a definite detached mood and feel.
The piano plays a dominant role in your current musical template. What made you take the sound in that direction?
Any change in sound is just a natural evolution. We had grown so much as people as well as musicians between those two records that it was inevitable that they would differ. We really didn't consciously decide that the piano was going to have the strongest 'voice' on this record, we just started writing and the six songs on the album were more or less the next six songs that we wrote. I think because its role was so much smaller in the past that it's quite striking for a lot of people and because of that, it has become their primary reference point towards us. Personally, I don't think we really 'did' anything with the piano, we just added another instrument and it kind of did what it had to do. We were definitely interested in taking a chance with this record but it wasn't pre-determined that the piano was going to be the instrument which would make the strongest difference. None of us saw the point in making another 'Critical Band'; making the same record twice is not something we're at all interested in. Bearing that principle in mind, the next album should be pretty interesting.
The lyrics on 'To Everybody' imply a sense of emotional loss or regret. Is that correct to assume and if so, what events drove those feelings?
I can only really speak for myself here but the lyrics on the record were just my attempts at trying to deal with a couple of events that have happened in my life which I've repressed for a while. It was very therapeutic in a way, really. Yes, they're quite personal lyrics but I don't really want to reveal too much more about them and in the process ruin what someone may have manifested in those words for themselves.
Why The Smiths' lyrical references on A National Car Crash?
When I wrote those lyrics, I was listening to 'Strangeways, Here We Come' a great deal. It had marked this place in my life that was coming to an end so I thought it would be a good closure for me to include some of the things that I was feeling while listening to that record. I find it quite strange that so many people have noticed it. I really hope that people don't perceive me as being negative towards The Smiths because I love them - unlike the rest of the band - and I think Morrissey is an amazing writer. To make others feel the same things that you're feeling, which to my mind is the ultimate point of any song, is an extremely powerful thing. Morrissey has always had that ability. I'd be very curious to know what he would make of us!
You've recently completed a massive European headlining tour. What kind of reaction did you generally get out on the road?
We had toured Europe once previously while supporting the last record but the recent trip was a 110% better experience; our first visit to the UK was just horrible. This time around, it was quickly apparent in lots of places that crowds were actually coming to see us and not just whatever US band happened to be playing in town that night.
What do you love and hate about the touring process?
We all love travelling and seeing friends in other places. It's definitely the most unique way to see a city, coming into contact with people who are 'like you' almost immediately. I can't now imagine visiting Europe in any other way. You do unfortunately miss out on the history of a city or whatever but actually meeting the people that live there is an entirely different experience and to us, it's a much more accurate depiction of where you really are.
How does the band's dynamic translate to the live setting?
Without trying to sound too spiritual, we all just try and lock onto one thing, let the music take us to a point where we stop thinking about everything and just let go. The thing we all certainly try to avoid is the feeling like we're just going through the motions, of blindly playing and not searching deeply for something special. The stage is where we attempt to discover ourselves.
Upon seeing you live recently, I was transfixed by Robert Lowe's surreal front-man qualities. Is Rob regarded as the band's leader on stage?
There is no real leader in this band. Rob has a pretty commanding presence and I think that's why people are naturally drawn to him as a performer. You can really see his personality shine through when he plays but he would still think it's pretty funny that you say that. Personally, I don't ever really look at him when we play; maybe it's time that I started to pay a little more attention!
So, do you consider the group to be completely democratic?
Absolutely. There's no point at all in forcing someone to play something that they don't want to. It just creates obvious problems and makes people resent being together and doing something they should really want to be doing. The 90 Day Men is a completely democratic beast - come on man, that's natural to us - we're American...
And such equality must fit in perfectly with the collaborative and improvised musical crowd back home in Chicago, right?
The support for music really is quite unique here, unlike any other city I've encountered. People actually work together and help each other out here which is something special in itself. We do a lot of improvising but we just have more boundaries that we choose to stay between than many of the bands in Chicago. I don't think many people would put us in the same category as the likes of Tortoise and Chicago Underground Duo, I think you can definitely hear 'songs' when we play although sometimes our music is originally based around loose jams. It's still pretty safe to say though that we are quite different every time we perform. Actually, comparisons to the Chicago 'sound' is one of my pet hates - we're just trying to keep on moving, to keep on developing, wherever that may lead us in the future...
CWAS #11 - Autumn 2002