cwas#16 / cwas#11 / cwas#10 / cwas#9 / cwas#8 / cwas#7
cwas#6 / cwas#5 / cwas#4 / cwas#3 / all interviews / search
Mojave 3
by Matt Dornan / pictures by Paul Heartfield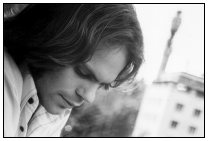 This was supposed to be the beginning of something grander. A brief meeting with Neil Halstead before Out Of Tune, the second stunning album from our own Mojave 3, seduced the critics with its heady blend of country, folk, blues and gospel. Before they fell over themselves, fumbling for their thesauruses, looking to find the words to encapsulate this superlative, modern day successor to Bryter Layter, Exile on Main Street, Harvest and The Gilded Palace of Sin. But no, there was no follow-up meeting and, similarly, no swooning critics. Not that it was panned, mind you, more overlooked.
We just picked the songs everyone in the band was into,
Neil tells me over the pounding bass of the ULU Bar. We're talking about the decision to make a nine-track album when the b-sides of the singles would have graced any of the aforementioned 'classics'
. We sort of voted, so we ended up with nine tracks that got a 'yes' from everyone. The others were split votes. We didn't want a long album; I still think After The Goldrush is a perfect album and it's 38 minutes.
Hmm, Neil Young. I remember, during Neil's 'beard period' (that's Halstead, not Young) at a gig with labelmates Tarnation, a batch of new songs had that certain 'Harvest-y' feel, tracks which don't seem to have made it on to Out of Tune.
We've still got a lot of songs that we haven't finished or that didn't make it on the record,
he tells me, matter-of-factly, but then given the democratic system that determined the final tracklisting, it's unsurprising.
After admitting that, with hindsight, he's a little unsure about the inclusion of Keep It All Hid
(I'm not sure if it fits with the vibe of the record)
and nearly choking on his beer when I ask, out of the blue, if he has a foot fetish (he did after all include Yer Feet and Caught Beneath Your Heel) we talk Country.
I think we're all really influenced by Gram Parsons and the Burritos - where he integrates soul music and gospel. I remember when I was growing up Country music was dirt. If I hadn't got into The Byrds and heard about Gram Parsons then I'd have dismissed it too. But then you discover Hank Williams and Townes Van Zandt; you get a different take on it.
It remains to be seen if Out Of Tune follows in the footsteps of great albums by The Stones, Nick Drake, Gram Parsons and others which weren't appreciated until long after their release. But Halstead's feet remain firmly on the ground when being grouped with such luminaries.
You don't really know great records until years later. I don't think it's a great record but I think it's a good record. I just hope that because it's got a country influence it's not dismissed because it doesn't fit.
Out Of Tune, out of time? It is, we are.
CWAS #4 - Winter 1998/9 - The Lost Issue