cwas#19 / cwas#18 / cwas#17 / cwas#16 / cwas#15 / cwas#14
cwas#13 / cwas#12 / cwas#11 / cwas#10 / cwas#9
cwas#8 / cwas#7 / cwas#6 / cwas#5 / cwas#4
cwas#3 / cwas#2 / cwas#1 /
CWAS #4 - Winter 1998/9 - The Lost Issue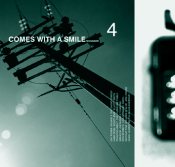 Interviews
Cat Power, Mojave 3, The Divine Comedy, Hank Dogs, Silver Jews, Elliott Smith, Françoiz Breut, The Handsome Family, Sebadoh, John Wesley Harding, Ron Sexsmith, Lisa Germano, Swell, Buffalo Tom, His Name Is Alive, Josh Rouse, Quasi, Godspeed You Black Emperor!
Reviews
Art of Fighting, Baby Lemonade, Mike Badger, The Beach Boys, Beck, Ben & Jason, The Black Heart Procession, Bonnie "Prince" Billy, Brian, Built To Spill, Cat Power, Cotton Mather, Dakota Suite, Dieselhed, Jason Falkner, Grand Drive, Granfaloon Bus, John Wesley Harding, Ninian Hawick, The High Llamas, Jessamine, Damien Jurado, Karate, Pete Krebs & The Gossamer Wings, The Lapse, Looper, The Minders, Stina Nordenstam, Jim O'??Rourke, The Olivia Tremor Control, Liz Phair, Joel R.L. Phelps, The Pins, Pizzicato 5, Sam Prekop, Retsin, Sebadoh, Sleater-Kinney, Smog, John P. Strohm, Sunny Day Real Estate, The Sunshine Club, Tram, Tom Waits, The Webb Brothers, Chuck E. Weiss, Wilco, Kelly Willis, The Wondermints, XTC, Zita Swoon
This issue is sold out on our website,
please check the order page for links to other mail order sources and stockists.
Download The Lost Issue
cover
(PDF - 274 KB)
cd artwork
(PDF - 768 KB)
mag part one
(PDF - 3157 KB)
mag part two
(PDF - 1846 KB)
mag part three
(PDF - 2646 KB)
mag part four
(PDF - 3842 KB)
reviews
(PDF - 1210 KB)