cwas#19 / cwas#18 / cwas#17 / cwas#16 / cwas#15 / cwas#14
cwas#13 / cwas#12 / cwas#11 / cwas#10 / cwas#9
cwas#8 / cwas#7 / cwas#6 / cwas#5 / cwas#4
cwas#3 / cwas#2 / cwas#1 /
CWAS #16 - Autumn 2004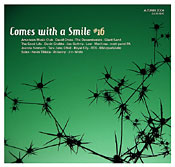 Interviews
American Music Club, David Cross, The Decemberists, Giant Sand, The Good Life, David Grubbs, Jim Guthrie, Low (pt.1), Maritime, matt pond PA, Joanna Newsom, Tara Jane ONeil, Royal City, RTX, 65daysofstatic, Solex, Kevin Tihista, Unbunny, Jim White.
Reviews
American Music Club, Tara Angell, Animal That Swim, arco, Ariel Pink's Haunted Graffiti, Panda Bear, Art of Fighting, Anton Barbeau, Bare Skin Rugs, Devendra Banhart, Matt Bauer, Black Dice, Black Forest / Black Sea, Urdog, Boxstep, Paul Brill, Buzzwagon, Camper Van Beethoven, Can, Nick Cave & The Bad Seeds, Cicero Buck, Coastal, Comets in Fire, Corker Conboy, Greg Davis, The Delgados, Dolorean, Tanya Donelly, Drive by Truckers, Max Eastley and David Toop, Eugene Edwards, The Essex Green, John Fahey, Flaming Stars, Fonda 500, The Frame, Frausdots, Giant Sand, The Go! Team, Gravenhurst, Grimble Grumble, Guided by Voices, Mats Gustafsson / Sonic Youth, Hayden, The Heavy Blinkers, Robyn Hitchcock, Rich Hopkins & Luminarios, The Innocence Mission, The Je Ne Sais Quoi, Joan of Arc, Will Johnson, Karate, Katell Keineg, Mark Lanegan Band, Jens Lekman, Li'l Cap'n Travis, Marjorie Fair, carolyn Mark & The New Best Friends, Willy Mason, Murcof, Tony Moreno, Mount Analog, p:ano, Pilotram, Psapp, Q and not U, Bod Rea, The Red Krayola, Reverbaphon, rivulets / Marc Gartman, Brian Michael Roff, RTX, Salako, Elliott Smith, Maria Solheim, State River Widening, Ken Stringfellow, Team, Textile Ranch, Thee More Shallows, This Floating World, Kevin Tihista's Red Terror, Tracer AMC, The Transmissionary Six, Triosk, Unbunny, Velvet Crush, Vetiver, The Violettes, Tom Waits, Washington, Keith Fullerton Whitman, Brandon Wiard, Windsor For The Derby, Woven Hand, Yakuzi, Yellotone, James Yorkston & The Athletes, Thalia Zedek
CD
-
Vol. 12
- Meanwhile in the Meantime
1. David Cross | My Kids Think I'm an ATM / Am I The Only One on the Planet That Knows How to Drive? (two stand-up routines recorded live during David's recent residency at London's Soho Theatre)
2. The Decemberists | Cautionary Song (live version)
3. Mark Eitzel | Patriot's Heart (live solo rendition of new AMC song, recorded at London's Bush Hall)
4. Giant Sand | Capitulation Blues (brand new studio recording)
5. The Good Life | Grandma's Gone (brand new studio recording)
6. David Grubbs | Aging Young Lovers (previously only available on Japanese edition of 'A Guess At The Riddle')
7. Jim Guthrie | Ain't Got No / I Got Life (brand new studio recording, cover of songs from the musical 'Hair')
8. Maritime | Future Is Wired (brand new studio recording)
9. matt pond PA | The Band And Me (brand new studio recording)
10. Tony Moreno | Driving by Moonlight (alternate version with vocals by Shelley Short)
11. Andrew Morgan | The Spires Conspire (brand new studio recording)
12. Tara Jane ONeil | Tracer (stage version) (new 5:30 version of a song from her current album)
13. Royal City | Tarry (brand new studio recording)
14. RTX | Beth (brand new studio recording, a bizarre cover of the song by Kiss)
15. 65daysofstatic | Massive Star at the End of its Burning Cycle (brand new studio recording)
16. Solex | Put A Lock On It (previously only available in Taiwan/Hong Kong)
17. Kevin Tihista | Is That All There Is? (brand new studio recording)
18. Ukiah | Ruppert Towers (demo from unsigned, London-based artist)
19. Unbunny | Water and the Spanish Tongue (alternate electric version, produced by Chris Walla)
20. Jim White | Cinderblock Walls (brand new studio recording)
This issue is sold out on our website,
please check the order page for links to other mail order sources and stockists.