cwas#19 / cwas#18 / cwas#17 / cwas#16 / cwas#15 / cwas#14
cwas#13 / cwas#12 / cwas#11 / cwas#10 / cwas#9
cwas#8 / cwas#7 / cwas#6 / cwas#5 / cwas#4
cwas#3 / cwas#2 / cwas#1 /
CWAS #19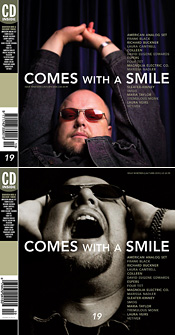 Interviews
The American Analog Set, Frank Black, Richard Buckner, Laura Cantrell, colleen, David Eugene Edwards, Espers, Four Tet, Magnolia Electric Co., Marissa Nadler, Sleater-Kinney, Smog, Maria Taylor, Tremulous Monk, Laura Veirs, and Vetiver.
Reviews
A Gilbert Play, Terry Allen, Ansty Cowfold, Arizona Amp And Alternator, August Born, Big Star, Black Cab, Black Dice, Boduf Songs, Bosque Brown, Bottom of the Hudson, Breadfoot Featuring Anna Phoebe, Françoiz Breut, Belinda Bruce, Burning Idiot Noise, Puffinboy, Raised By Wolves, Calm Your Hands Say Yeah, CocoRosie, Cowboy Junkies, Death Cab for Cutie, Deerhof, dEUS, Dirty Three, John Doe, Donovan, The Eighteenth Day of May, Mark Eitzel, epic45, Espers, Fairport Convention, Tim Fite, Flophouse Jr, Fruit Bats, Grand Drive, Danny George Wilson, Susan Howe & David Grubbs, Richard Hawley, Her Name In Lights, Gary Higgins, Iron and Wine / Calexico, Kid Icarus, Calvin Johnson, Kinski, Leave Land for Water, Lewis & Clarke, Lichens, Manyfingers, Marbles, Carolyn Mark, Syd Matters, Monta, The Most Serene Republic, Neutral Milk Hotel, The New Pornographers, Mike Noga, Old Time Relijun, Odd Nosdam, Olvis, Pacific Ocean Fire, Don's Mobile Barbers, Phosphorescent, Picastro, The Posies, The Quarter After, Rogue Wave, Sergeant Petter, Sexmith & Kerr, Michael Shelley, Sam Shinazzi, Silver Jews, Son Volt, Sonic Youth, Aaron Stout, The Supahip, 31Knots, Alexander Tucker, Chad VanGaalen, Laura Veirs, Viarosa, Whip, Wild Strawberry, The Wingdale Community Singers, Wolf parade, Wooden Wand, Xiu Xiu, Susumu Yakota, Richard Youngs, The Zephyrs
CD
-
Vol 15
1. Espers - Firefly Refrain
2. Picastro - Shorter Hard
3. Richard Buckner - Pull (live on RCF, France May 2003)
4. Sleater-Kinney - Entertain (live on XFM, UK April 2005)
5. The American Analog Set - Everything Ends In Spring (edit)
6. Aaron Stout - The Ballad of Mr Lamatta
7. Marissa Nadler - Flora Barone, Queen of the Vaudeville Throne
8. Four Tet - Both When I'm Alone and We Both Are
9. Tremulous Monk - Tea Hippy
10. Laura Veirs - Flotsam 'n' Jetsam
11. David Eugene Edwards - Nobody 'Cept You
12. Vetiver (featuring Hairy Fairy) - You May Be Blue (live at Les Vieilles Charrue, Brittany July 2005)
13. colleen - The Zither Song
14. Laura Cantrell - Hammer and Nails
15. Pacific Ocean Fire - My Drinking Days Are Done
16. Maria Taylor - The First Time Ever I Saw Your Face
17. Frank Black - Atlantis
This issue is sold out on our website,
please check the order page for links to other mail order sources and stockists.